«Back
Posted:
2015-03-23 10:45
Category:
iPhone/Healthcare & Fitness
Last changed:

Mar 15, 2015

Seller:

Current Version:

No Data

Size:

9.0 MB

All Versions:

5.0(22)

Rated:

Price:

9.99

-->

Free

Version:

2.4.5

Language:

English

Requirements:

Requires iOS 7.0 or later. Compatible with iPhone, iPad, and iPod touch. This app is optimized for iPhone 5, iPhone 6, and iPhone 6 Plus.
Description:
We run your training so that you can run your race.
Whether it's your first 5K or the Boston Marathon, HighStride will get you to your goal. Set a personalized training plan, track and log your progress every day and find any race in the US towards your next big win.
Our training philosophy is simple: to provide a training progression that improves your performance while seamlessly blending into your life and routine.
TRAIN.
Learning how to run smart should be easy and affordable. So, we offer training plans developed by certified coaches for FREE. Set a personalized plan for race distances such as a 5K, 10K, Half Marathon and Marathon, designed to fit your current ability and desired commitment.
TRACK.
Make the most out of every mile you run. Our integrated GPS is connected to your training plan, so that your target distance stays right there in front of you each time you are running, and for every run you log towards achieving your goal.
RACE.
Runners race - and we know it! That's why we've partnered with RunningInTheUSA.com to give you access to ALL the road races in US. Discover races in your neighborhood to incorporate into your training or find new ways to challenge and test your running performance. With over 26,000 races per year, you will never be short of options.
HighStride Run: performance, satisfaction, expertise. Take us out on your next run and let us know how it goes. We'd love to know about your new PR.
Screenshots: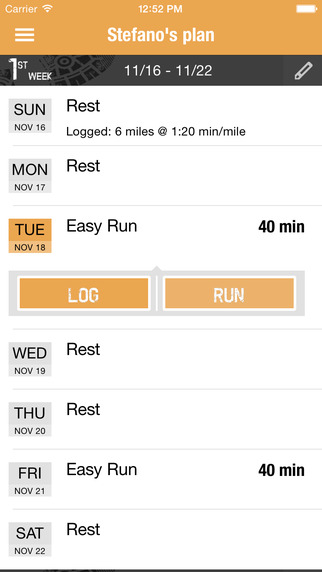 «Back