«Back
Last changed:

Mar 18, 2015

Seller:

Current Version:

No Data

Size:

8.7 MB

All Versions:

4.0(96)

Rated:

Price:

Expired - Now: 2.99

Version:

1.64

Language:

English

Requirements:

Requires iOS 7.1 or later. Compatible with iPhone, iPad, and iPod touch. This app is optimized for iPhone 5, iPhone 6, and iPhone 6 Plus.
What's New:
- UI improvements.
Description:
Design your own animated light effects for Philips Hue and LIFX bulbs! Just choose a mode, a palette, and up to 50 bulbs — right away the room comes to life with changing color.
Scintillator includes lots of effects and color palettes to get you started. Change them or make your own with the couldn't-be-simpler editors.
For setting a mood, throwing a party, or just watching a movie, Scintillator creates a living colorscape to suit the occasion.
"Great for showing off what the bulbs can do." — Digital Trends
"Best app for making light animations" — KuipoqiuK
"Simple, elegant. Gorgeous." – HotelGulf718
"Just mesmerizing." — Dhrubin
Features:
◆ Gorgeous pre-built effects by the dozen
◆ Music visualizer with custom colors
◆ Scintillator understands traditional artists' color harmony! Automatically create colors that look good together
◆ Lots of bulbs? Run multiple effects at the same time
◆ Full color palette editor with nearly unlimited swatches
◆ Sleep timers for automatic fade-and-stop
◆ Bulb set editor organizes all your bulbs
◆ Pull colors from photos
◆ Master brightness control per effect
◆ Fast or ultra-gradual effects up to 1200 seconds per step
◆ Listening sensitivity makes effects reacts to sound
◆ Share lighting designs with friends
◆ Import color palettes from COLOURlovers and Dribbble
To use Scintillator you need either LIFX bulbs or a Philips Hue bridge with at least one controlled bulb. See meethue.com or lifx.co for more information.
Screenshots: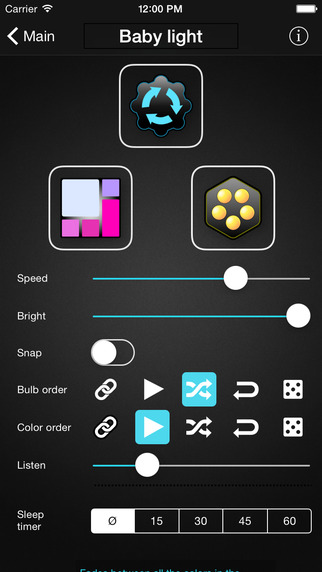 «Back